Despite the current circumstances with COVID 19, Wake County Register of Deeds is rigorously working to keep the Wake County economy moving!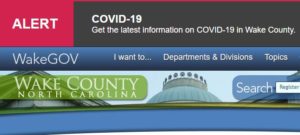 In terms of recording status, April 2020 recording volume is up 23% compared to the same recording days in 2019. Since the middle of March, more than a dozen staff have been carefully eRecording and indexing legal instruments. On March 25, they advised financial institutions that submitting satisfactions by mail would be beneficial, but now it would be better for financial institutions to send all satisfactions by eRecording. They advise to continue sending bulk submissions of satisfactions mid-morning to help keep the eRecording internet pipes clear for time-sensitive documents.
On March 27, Wake County magistrates stopped performing civil marriages, but they resumed April 20. Magistrate marriages are now performed at 3301 Hammond Road, 11:00 am – 3:00 pm Monday – Friday. Ceremonies arranged by ministers are still permitted, but guests must be limited to 10 people and stay at least six feet apart. Please note, couples must allow ample time for the hard copy marriage license to be received via the mail. Notary Publics are being processed by the staff virtually by video conference.
Hospitals, funeral homes and others in the chain are performing their birth and death documentation processing duties. Birth or death certificate information will be turned around within 24 hours, as per usual, because employees are recording and indexing at home and throughout the night. Special arrangements are in place with funeral homes to keep the workflow moving to benefit bereaved families.
If there is a development important to you, the quickest way to see an announcement is likely to be via social media. If you use Facebook, you can go to these pages and "like" the page. That will put the page in your news feed. Facebook.com/JudgeGilliam and  Facebook.com/WakeRegisterOfDeeds. If you use Twitter, go to@WakeNCRoD and "follow".