Check out these fun ST. PATRICK'S DAY Activities to do in Downtown Raleigh! Come on down to Downtown Raleigh to celebrate St. Patrick's Day! Bring family and friends to all the parties, festivals, parade, and more! Here are the top  things to do for ST. Patty's Day Festivities!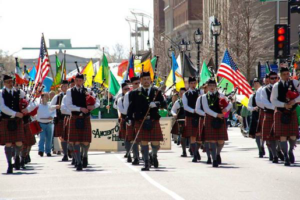 Parades & Festivals
Raleigh St. Patrick's Day Parade and Festival: Kick off your St. Patty's celebration by gathering at Lane and Salisbury Street at 10 am for the 38th Annual Raleigh St. Patrick's Day Parade! The parade will take place on Saturday, March 14th, 2020. This is such a fun way to start your day and watch Downtown Raleigh turn green!
Patrick's Day Festival: Bring the whole family down to the St. Patrick's Day Festival from 12pm-4pm on Saturday, March 21st, 2020 at Lafayette in Raleigh. Enjoy a full immersion into the Irish culture through food, live music, and treasures at the village shops! This event is FREE so you don't want to miss it!
Park fun & St. Patrick's Day Snacks: Get you and the kids out of the house by going to the Jack Smith Park to let the kids play and enjoy a St. Patrick's Day snack! Come out on Tuesday, March 17th, 2020 from 10am – 11am at 9725 Penny Road Raleigh, NC 27606 for St. Patty's Day fun!
Restaurants & Bars
Cheers and Green Beers St. Patrick's Day Brunch: 10th & Terrace (616 Salisbury Street Raleigh, NC 27601) will open at 11am after the Raleigh St. Patrick's Day Parade on Saturday, March 14th, 2020 . Green Beers will be sold ALL DAY FOR $5!

Green Beer from 10th & Terrace

You can also purchase a ticket in advance for $15 for The Cheers and Green Beers Brunch. This ticket provides you with all your favorite brunch items and 1 Green Beer! They will also have live music from 11am-3pm so be sure to check it out!  Link for tickets: https://events.residenceinnraleighdowntown.com/product/cheers-and-green-beers-st-patricks-brunch/.

Patrick's Day Party with Your Mama's New Boyfriend: Grab a friend and head down to the Raleigh Beer Garden at 614 Glenwood Avenue starting at 7pm for the biggest party in Downtown Raleigh. Enjoy drinks and live music!

Raleigh Beer Garden

Tobacco Road Sports Cafe and Brewing: Join the party on Saturday, March 14th for an all day block party! Great food and drink specials all day, yard games and a bouncy house from 12pm-5pm, ACC Tournament Finals on all TV's, and music from DJ Super Duper from 3pm-6:30pm. As well as 2 sets from Sleeping Booty starting at 7pm! Bring the family to this awesome event for FREE at 505 W Jones Street, Raleigh, United States