A staple in the life of downtown Raleigh is Dorothea Dix Park, the cities green gem. Home of many events and opportunities to relax, Dorothea Dix is the perfect place to spend a sunny afternoon.  https://www.raleighnc.gov/parks/news/content/CorNews/Articles/PRecDorotheaDixPrograms.html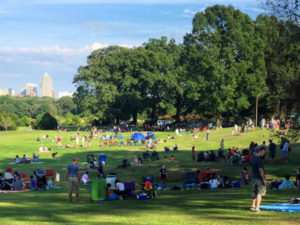 The Dorothea Dix Park planning team has rolled up their sleeves to begin work on their Phase 1 update which includes 7 projects. The goal of the entire plan is to "open up and connect; build from what is there, and offer something for everyone." Some of the projects include a new gateway plaza, creek and landfill improvements, and a paved path along Lake Wheeler Road.
Raleigh Parks has also recently been in the works with Capra Weed Solutions to help launch a grazing project at Dix Park. Around Labor Day 20 goats were introduced in order to clear out two acres of underbrush. It only took 9 days for the goats to get the job done! This new strategy is an initiative for sustainable and cost-effective maintenance to help manage the park.
In case you didn't know, Dorothea Dix also offers a 4 acre dog park open to all dogs and their owners. The park includes bleachers for owners, plenty of shade for play, and dog waste bags. The park is located in on Biggs Drive. Be prepared, there are no restrooms or running water nearby to use- come ready with water for your dog!
Other great happenings: https://www.dixpark.org/calendar.  And, make sure to catch the Tamale Festival Oct 5th!
And, there is so much more!  Want more info regularly?  Subscribe to the city's RSS feed and circle back with us occasionally.  https://www.raleighnc.gov/content/CorNews/Articles/RaleighNewsRSS_home.xml